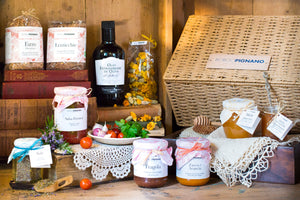 The Tuscan Table – Small Hamper
Sale price Price €130,00 Regular price
Customs charges excluded
Our small food hamper includes exquisitely packaged products full of the sunlight and freshness of a Tuscan summer.
It's a collection designed to lighten winter days..
This hamper contains:
1 EXTRA VIRGIN FLASK OF OLIVE OIL – 0,500L
1 PACKAGE OF ORGANIC FARRO - 400 GR
1 PACKAGE OF ORGANIC LENTILS 400 GR
1 JAR OF PUMPKIN & ORANGE COMPOTE - 200 GR
1 JARS OF APRICOT JAM - 100 GR
1 JAR OF BORGO PIGNANO HOUSE HONEY - 250 GR
1 JAR OF LAVENDER FLAVORED HONEY - 100 GR
1 JAR OF SALSA ETRUSCA – OUR HOMEMADE TOMATO SAUCE - 280 GR
1 PACKAGE OF SALT FLAVORED WITH AROMATIC HERBS - 30 GR
1 SACHET OF HERBAL TEA - 30 GR
Recipes:
PUMPKIN & ORANGE COMPOTE: Pumpkin, brown sugar, lemon juice, orange juice and zest
APRICOT COMPOTE: apricot, brown sugar, lemon juice
HOMEMADE TOMATO SAUCE: Tomato, EVO oil, garlic, basil, salt
SALT WITH PIGNANO AROMATIC HERBS: Volterra salt, oregano, basil, lemon balm, vervain, marigold flowers, lavender flowers, cornflower flowers.