Borgo Pignano sits at the heart of a 750 acre estate on which, using ancient seedstock, we grow crops like wheat, barley and spelt.
We also have extensive fruit orchards, bee hives, a two-acre vegetable garden and olive groves and a vineyard.
All are tended to in an organic manner and its these fields, trees and plants which allow us to produce artisanal breads, pastas, stone-ground flours, cold-pressed olive oils, red and white wines, honeys, jams and a range of cosmetics – shampoos, fragrances and soaps.
All are available for sale.
OUR PRODUCTS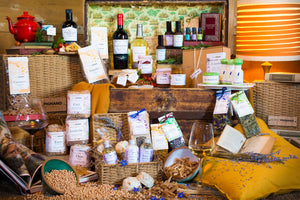 The World of Tuscany Hamper
Sale price Price $660.00 Regular price
Customs charges excluded